It is Time to Register for Our Tent!
Registration for 2018-2019 Our Tent 2nd Trimester now open to the Community!
Public registration for Our Tent is now OPEN!, Make sure to register as soon as possible for the class of your choice!
Click HERE to see the classes that are available
Click HERE to register
Looking for ways to contribute to Our Tent?
Our Tent brings together our entire congregation on Sunday mornings to learn together. Our Tent is for adults and children, young and the old and all of us in between. It's for those who want to learn together with all age groups, and for those who want to learn with their peers. It's for those who prefer to learn through a book or lecture, and for those who want to learn through experience and expression of their creativity. It's for thosewho want to explore history and those who want to dream about the future.
You can help to make this happen! There are several ways to donate to Our Tent .
For $72 you can sponsor a Sunday Breakfast
For $360 you can sponsor 1 full class for a trimester
For $72 you can sponsor a single class
You can also do a Tribute in Honor of a Teacher!
To find out about other options, please email Rabbi Shana or Brett Shankman
Open Doors - 2018/19 Membership Renewal
Open Doors 2018/19 renewal forms were mailed to all current members in June 2018. If you wish to renew online, please login to your account and then click on the Open Doors on the menu bar. You will see the link to the renewal form in the drop-down menu.
If you haven't yet renewed for the current fiscal year, please do so as soon as possible. Thank you.
Torah Talk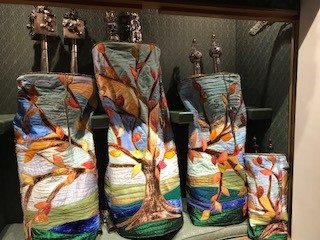 INSIGHTS ON ABRAM
Lech-Lecha is a Torah portion that pushes Abram (his name only becomes Abraham later) to come face to face with extraordinary challenges. Each trial Abram deals with very differently. These reactions, I believe, give insight into Abram.

In the opening verses, Abram is called by God to "Go forth from your native land and from your father's house to the land that I will show you."

Being called by God to leave everything he knows had to have been terrifying. However, it appears that Abram calmly followed God's command: "Abram went forth as Adonai had commanded him, and Lot went with him." During their journey, they stopped to build an altar along the way. During this challenge, Abram trusted God to follow through with the blessings that are promised by God. He was not afraid.

The journey continued. They were about to enter Egypt. Suddenly, Abram, who had appeared so fearless just a few verses before, said to his wife Sarai (her name will become Sarah later as well), "I know what a beautiful woman you are. If the Egyptians see you, and think, 'she is his wife', they will kill me and let you live. Please say that you are my sister, that it may go well with me because of you, and that I may remain alive, thanks to you."

Abram, afraid, made a poor moral choice. Historian Nahum Sarna writes, Abram, the man of implicit faith in God's word, is fearful of the evil of which people are capable."

Abram will face many more challenges throughout his journey. In just these two examples, Abram was so clearly… human. He was flawed and struggling and learning—just like us. And through these narratives, we have so much to learn.

~ Rabbi Allison Vann
Mon, October 22 2018
13 Cheshvan 5779
Happenings at The Temple:
Mon, October 22 2018 13 Cheshvan 5779