Strengthening Suburban Temple- Kol Ami
what your donation makes possible:**
$7,500 Annual Rosh Hashanah Luncheon
$2,000 One year live streaming of Kabbalat Shabbat Services
$1,000 One day of Our Tent programming
$720 Annual Pints on Purim Program
$360 Simchat Torah congregational dinner
$180 Postage for one monthly bulletin mailing
$72........Paper goods for one Calvary Church Supper for the needy
**examples of typical expenses
To Learn More about the 2017 STKA Annual Campaign visit here:
Open Doors - 2017/18 Membership Renewal
Open Doors 2017/18 renewal forms were mailed to all current members in June. If you wish to renew online, please login to your account and then click on the Open Doors on the menu bar. You will see the link to the renewal form in the drop-down menu.
Torah Talk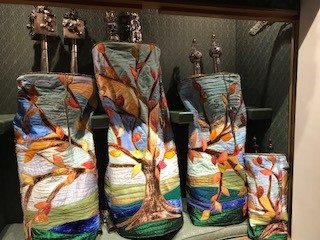 APPRECIATING YOUR BLESSINGS
This week we read in the Torah that after Jacob cheated Esau out of his blessing and birthright he left Beersheba and set out for Haran. He came upon a certain place and stopped there for the night, for the sun had set. Taking one of the stones of that place, he put it under his head and lay down in that place. He had a dream; a stairway was set on the ground and its top reached to the sky, and angels of God were going up and down on it. And God was standing beside him and God said, "I am Adonai, the God of your father Abraham and the God of Isaac...Remember I am with you: I will protect you wherever you go and I will bring you back to this land. I will not leave you until I have done what I have promised you." Jacob awoke from his sleep and said, "Surely, God is present in this place, and I did not know it.
Some years ago, I gave a sermon about an article I read in People Magazine, something I was voted most likely to do in rabbinical school based on my love of all things pop culture. But this sermon was not about the latest scandal or a new up-and-coming star, rather it was about Will Bowen.
On July 23rd, 2006 Will Bowen was the minister of a small midwestern church delivering a lesson series on prosperity. Will noticed that his congregation all said they wanted greater prosperity- that is: more stuff. But, they all complained about what they already had. He suggested everyone try and break the complaining habit by going 21 days in a row (He had done research, and this is the time it takes to break a habit.) without complaining. Will gave purple rubber bracelets to everyone in attendance urging them to put the bracelet on either wrist and switch it to the other wrist with every spoken complaint. The bracelet is a tool to become mindful of complaining and track one's success at going 21 consecutive days without a single gripe. Will's idea exploded around the world! (http://www.willbowen.com/about)
We bought bracelets for everyone, and we all tried it. It proved much harder than we all thought!
Jacob stole his brother's blessing and birthright because he was not satisfied with and did not appreciate what he had, rather he focused on what he perceived to be missing. It was only after his dream that we see his eyes were opened to the blessing of God's constant protection, and he woke up with a deep sense of appreciation. The same was true for Bowen's congregants, for the one's I served in Virginia, and is true for all of us at times. While I do not have bracelets to pass out, I challenge us all to try the "Complaint Free Challenge." Find a way to track your progress - a string tied to your wrist, use your cell phone, mark a paper calendar with stars. See if you can go 21 days without complaining and break the habit, and more importantly in those 21 days make sure to offer gratitude for what you do have.
Wishing you a Happy Thanksgiving and an early Shabbat Shalom!
~ Rabbi Shana Nyer
Fri, November 24 2017 6 Kislev 5778