Suburban Temple-Kol Ami is a warm, welcoming Reform Jewish community building a vibrant Jewish future rooted in acceptance, spirituality, and creativity.
MITZVAH DAY IS COMING ON SUNDAY, APRIL 28!
COLLECTING FOR MITZVAH DAY...
OUR TENT: Thank you for learning with us this year!
Looking for ways to contribute to Our Tent?
Our Tent brings together our entire congregation on Sunday mornings to learn together. Our Tent is for adults and children, young and the old and all of us in between. It's for those who want to learn together with all age groups, and for those who want to learn with their peers. It's for those who prefer to learn through a book or lecture, and for those who want to learn through experience and expression of their creativity. It's for thosewho want to explore history and those who want to dream about the future.
You can help to make this happen! There are several ways to donate to Our Tent .
For $72 you can sponsor a Sunday Breakfast
For $360 you can sponsor 1 full class for a trimester
For $72 you can sponsor a single class
You can also do a Tribute in Honor of a Teacher!
To find out about other options, please email Rabbi Shana or Brett Shankman
TORAH TALK: weekly words from the Rabbi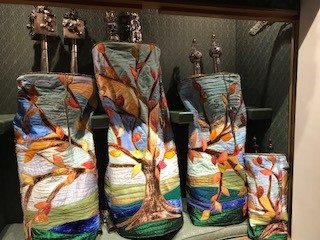 HOLY YESTERDAY, TODAY AND TOMORROW
This week in Parshat Tzav, we begin to learn more of the many details surrounding how sacrifices were offered in ancient Israel. In Leviticus 6:3-4 we read, "The priest shall dress in linen raiment, with linen breeches next to his body; and he shall take up the ashes to which the fire has reduced the burnt offering on the altar and place them beside the altar. He shall then take off his vestments and put on other vestments and carry the ashes outside the camp to a pure place."
"Why were the ashes treated with such reverence?" the Etz Hayim Torah Commentary asks. And the answer given is, "It symbolizes the idea that what was holy yesterday must be treated with respect today as well." In other words, if something is holy, no matter what it has been through, it remains holy and deserving of respect.
As human beings, each of us, created b'tzelem Elohim – in God's image, is holy. There are times we may feel as though we have been through the fire, and we come out feeling less holy. There are times we feel we have made sacrifices, or we have sacrificed ourselves or our principles in certain situations, and in the end, we feel less holy. This week's Torah portion reminds us that no matter what we have been through, no mater what we have experienced, in the end, even if we are not as whole, we are as holy as we began.

- Rabbi Shana Nyer
Sun, March 24 2019
17 Adar II 5779
HAPPENINGS!
All Events
Calvary Church Supper


Wednesday, Mar 27th

4:00p

to

6:00p




For more than 20 years, ST-KA members have been cooking and serving meals at Calvary Church at 79th and Euclid. The next dinner is scheduled for Wednesday, May 22, from 4-6 pm. We are responsible for bringing spaghetti and meat sauce and dessert, and we feed nearly 100 people each time. Please bring foil pans of food to the Temple kitchen by noon on May 22. WE NEED YOUR HELP ON May 22! We need you to participate in this great mitzvah opportunity. Please contact Jan Lieblich at jjanetlieblich@gmail.com or 216-297-1890 and/or Ellen Weber at elleweb1@me.com or 260-414-8128. If you'd like a ride to the church, please let Jan or Ellen know that too.

Kabbalat Shabbat


Friday, Mar 29th

6:00p

to

7:00p




Kabbalat Shabbat


Friday, Apr 5th

6:00p

to

7:00p




Kol Nashim: Annual Women's Seder


Sunday, Apr 7th

5:00p

to

7:00p




Kol Nashim invites all women (post-bat mitzvah age)... daughters, mothers, grandmothers, great-grandmothers, girlfriends, sisters and aunts to our annual Women's Seder. Come and begin your preparation for Passover with a special Seder led by Rabbi Shana. We'll celebrate old traditions and learn new ones, and, as a part of the Seder, enjoy a delicious light repast. We'll fill the Mandel-Gries Social Hall with laughter, warmth, music, and spirituality. Kol Nashim is also looking for volunteers who can help by: - bringing a dessert (to serve 12), or... - bringing a batch of charoset (to serve 12), or... - helping set and decorating the tables during the afternoon (after Our Tent), or... - helping to plate the charoset, the gefilte fish, the eggs, the parsley, the horseradish, and an "orange" on seder plates for each table and on serving plates for each table. Please contact Karen Shapiro (ksmith6935@aol.com) or Shellie Nyer (thenyers@aol.com) if you'd like to contribute food or volunteer to help set up on Sunday, April 7! Cost to attend is $20. Please RSVP by Tuesday, April 2 to Dale Hopkins at 216.991.0700 or via e-mail if you would like to attend this event!

Come Grow With Me! Shabbat


Friday, Apr 12th

6:00p

to

7:00p




+ Fun interactive service for newborns-2nd graders and their families with Rabbi Shana and Lauren Smith + 3rd-7th graders and their families join the adults for part of the service in the sanctuary + FREE dinner for Everyone! The evening is free and open to the community so invite your friends with Jewish children. Please RSVP to the office at 216.991.0700 or Keesha Sellars at ksellars@suburbantemple.org.

Kabbalat Shabbat


Friday, Apr 12th

6:00p

to

7:00p




Double Dare Retreat!


Shabbos, Apr 13th

12:00p

to

Sunday, Apr 14th

12:00p




$75 per adult* and $45 per kid (includes all meals and accommodations) RSVP BY MARCH 15 to lifelonglearning@suburbantemple.org or by calling the Temple office at 216.991.0700 *for double occupancy (single occupancy $140) This retreat is made possible through generous grants from the Jewish Education Center of Cleveland.

Kabbalat Shabbat


Friday, Apr 19th

5:00p

to

5:30p




Kol Nashim Book Club: 'But He Was Good to His Mother'


Thursday, Apr 25th

7:00p

to

9:00p




'But He Was Good to His Mother' by Robert A. Rockaway is the book for our Thursday, April 25 at 7 pm book club meeting. Men and women are invited to share in conversation or just listen to others! An RSVP to dhopkins@suburbantemple.org is requested before April 21. Location will be given at time of reservation. A thrilling assortment of true stories involving pitiless men, who murdered in cold blood and stole millions on their way to becoming the top gangsters of their era. Men for whom the law meant nothing and the threat of prison held no fear. Gangsters who were cop-killers, ran entire neighborhoods, shunned their heritage and turned their back on the obligations of their religion, who cared for nothing, but with one glaring exception they were good to their mothers.

OFFICE IS CLOSED: LAST DAY OF PASSOVER


Friday, Apr 26th

8:00a

to

3:00p




OFFICE IS CLOSED: LAST DAY OF PASSOVER
Sun, March 24 2019 17 Adar II 5779