Suburban Temple-Kol Ami is a warm, welcoming Reform Jewish community building a vibrant Jewish future rooted in acceptance, spirituality, and creativity.
OUR TENT: Trimester Three is now in session!
Looking for ways to contribute to Our Tent?
Our Tent brings together our entire congregation on Sunday mornings to learn together. Our Tent is for adults and children, young and the old and all of us in between. It's for those who want to learn together with all age groups, and for those who want to learn with their peers. It's for those who prefer to learn through a book or lecture, and for those who want to learn through experience and expression of their creativity. It's for thosewho want to explore history and those who want to dream about the future.
You can help to make this happen! There are several ways to donate to Our Tent .
For $72 you can sponsor a Sunday Breakfast
For $360 you can sponsor 1 full class for a trimester
For $72 you can sponsor a single class
You can also do a Tribute in Honor of a Teacher!
To find out about other options, please email Rabbi Shana or Brett Shankman
TORAH TALK: weekly words from the Rabbi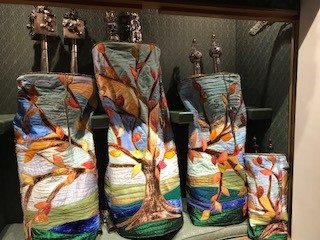 THE ETERNAL INTERNAL FLAME
"You shall further instruct the Israelites to bring you clear oil of beaten olives for lighting, for kindling lamps regularly." (Exodus 27:20)

There is a midrash, a rabbinic teaching, that says, "Just as one person lights one candle from another and the original flame is not diminished, so too, we are never lessened when we pass our internal flame to another person."

This Shabbat we read about the lighting of the menorah in the tabernacle, which today is replaced with the ner tamid, the eternal light. It is the only practice associated with the ancient tabernacle that is still reflected in our synagogues. The ner tamid is a sign of God's constant presence in our lives, and it is also a reminder that we each have the ability to be a ner tamid, an eternal light in the world. We each have an internal eternal light burning inside us, and when we fight for injustice and support others who are doing so, when we choose kindness, when we work to repair the brokenness in our world, we pass our internal flame to other and become a ner tamid, dispelling darkness and becoming a visible sign of God's presence in our lives. Our world often seems like a very dark and scary place, all the more so recently, may we be inspired by our own light and the light we see in others, and may we always remember that this light is eternal and can never be diminished.

- Rabbi Shana Nyer
Thu, February 21 2019
16 Adar I 5779
Thu, February 21 2019 16 Adar I 5779