REGISTRATION IS NOW OPEN!
Registration for 2018-2019 Our Tent 3rd Trimester is now OPEN!
Priority registration for members is available through December 10th!

Click HERE for a List of Available Classes
Click HERE to Register.
Looking for ways to contribute to Our Tent?
Our Tent brings together our entire congregation on Sunday mornings to learn together. Our Tent is for adults and children, young and the old and all of us in between. It's for those who want to learn together with all age groups, and for those who want to learn with their peers. It's for those who prefer to learn through a book or lecture, and for those who want to learn through experience and expression of their creativity. It's for thosewho want to explore history and those who want to dream about the future.
You can help to make this happen! There are several ways to donate to Our Tent .
For $72 you can sponsor a Sunday Breakfast
For $360 you can sponsor 1 full class for a trimester
For $72 you can sponsor a single class
You can also do a Tribute in Honor of a Teacher!
To find out about other options, please email Rabbi Shana or Brett Shankman
Open Doors - 2018/19 Membership Renewal
Open Doors 2018/19 renewal forms were mailed to all current members in June 2018. If you wish to renew online, please login to your account and then click on the Open Doors on the menu bar. You will see the link to the renewal form in the drop-down menu.
If you haven't yet renewed for the current fiscal year, please do so as soon as possible. Thank you.
Torah Talk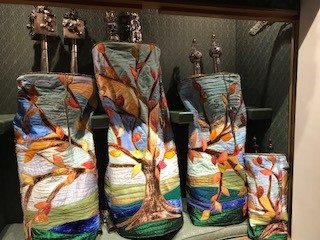 THE LIGHT OF A NEW DAY
Last night I had the honor of speaking at Brotherhood Night at Forest City Masonic Lodge. Here is an excerpt of what I said:

This week Jews around the world are celebrating, Chanukah, the Festival of Lights. It is a holiday that celebrates religious freedom. The small Jewish Maccabean army was victorious over the much larger Greek army as they fought for the right to remain Jewish. When the battle was over, the Israelites rededicated their temple, which had been desecrated. This is what Chanukah means – to dedicate.

Each year as we celebrate our Festival of Lights, as we celebrate Chanukah, we rededicate ourselves to our pride in being Jewish, to our gratitude for our freedom to worship as we choose, to celebrating how from we have come in our work towards justice and equality for all people, and to our commitment to continue the work until everyone has the right to worship in whatever way they choose or to not worship at all, until everyone has the right to love whomever they choose, until everyone is afforded the same rights and opportunities no matter, their gender, their race, or where they were born…

I do not know what it is like to be persecuted because of the color of my skin, or because of my sexual orientation, or because of where I was born, but I do know what it feels like to be discriminated against because of my religion and because of my gender. There are places in life where I experience prejudice, and there are places where I experience privilege. This is true for all of us, and because of this we all have a responsibility to look into the face of the person who is beside us and to see that they are our brother or our sister…

Chanukah takes place at the darkest time of the year, when there is the least amount of daylight. We are told that we are to light our menorahs and put them in our windows for all to see. I believe this is not only a symbol that we are proud of our Judaism and unafraid to let everyone know, but it is also a symbol of our commitment to end the darkness with our light.

Each one of us in created in God's image, unique and special. We all have gifts and talents we were put on this earth to share. Rather than being critical of what divides, splits, and separates us, we must celebrate it. We must repair the brokenness and end the darkness and the night. The dawn of a new day begins with the light that comes when we look into the face of the person beside us and see our brother or our sister.

May it be so, and may it be soon.

~ Rabbi Shana Nyer
Mon, December 10 2018
2 Tevet 5779
Happenings at The Temple:
Mon, December 10 2018 2 Tevet 5779