Strengthening Suburban Temple- Kol Ami
what your donation makes possible:**
$7,500 Annual Rosh Hashanah Luncheon
$2,000 One year live streaming of Kabbalat Shabbat Services
$1,000 One day of Our Tent programming
$720 Annual Pints on Purim Program
$360 Simchat Torah congregational dinner
$180 Postage for one monthly bulletin mailing
$72........Paper goods for one Calvary Church Supper for the needy
**examples of typical expenses
To Learn More about the 2017 STKA Annual Campaign visit here:
Open Doors - 2017/18 Membership Renewal
Open Doors 2017/18 renewal forms were mailed to all current members in June. If you wish to renew online, please login to your account and then click on the Open Doors on the menu bar. You will see the link to the renewal form in the drop-down menu.
Torah Talk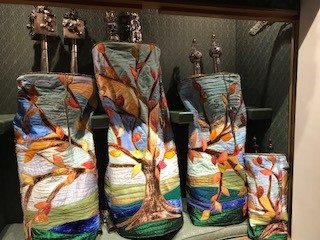 JACOB AND ESAU
Jacob and Esau, perhaps among the most famous twins, are the focus of this weeks' Torah portion, Toldot. As different as brothers can be, they provide a fascinating, poignant, and even tragic narrative.
Jacob, close to his mother Rebecca is painted throughout rabbinic text as the intellectual, quiet and pious. Esau, on the other hand, is the hunter, the outdoorsman, the hands-on laborer. Faith tradition sided with Jacob, elevated as our attachment to texts and books became more and more devoted.
Esau was demonized, as the brother who ran away from the study of faith, towards menial labor.
Rabbi and educator Steven M. Brown, of Jewish Theological Seminary, offers a deeply meaningful understanding of Jacob and Esau. He posits that they are models by which we can understand learning types and personalities. He writes: "their struggles, relationship, and vastly different personalities and learning styles stand as archetypes for me of the profound differences our children have in abilities, learning proclivities, and achievements."
Over time, we've come to idealize Jacob's learning style, and even his calmer nature. However, as a Jewish community, we must come to understand that all paths to learning and growth are valuable and necessary, as Brown writes, "We have our Esaus and our Jacobs, and we must provide experiences that value both types of learners if we are to capitalize on the multiple strengths our children can contribute to the Jewish people. Esau's way of apprehending and encountering the world is no less relevant to his spiritual development than Jacob's approach."
Suburban Temple-Kol Ami is inclusive of all of our Esuas and Jacobs. We provide experiences for all our learners and we value all different types learners. In this way we share in extraordinary learning, together, which is boundary-less and endless.
~ Rabbi Allison Vann
Mon, November 20 2017 2 Kislev 5778