We are so excited about Our Tent, but don't take our word for it.....hear what Lori has to say!
Open Doors - 2017/18 Membership Renewal
Open Doors 2017/18 renewal forms were mailed to all current members in June. If you wish to renew online, please login to your account and then click on the Open Doors on the menu bar. You will see the link to the renewal form in the drop-down menu.
Torah Talk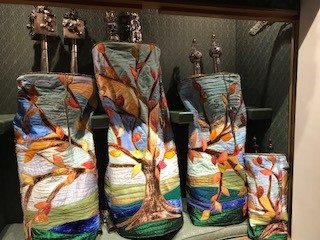 OUR DAY ARE SCROLLS...
The Talmud teaches us that one of the 613 commandments is that every person should write a Torah in their lifetime. One of the verses the Rabbis use as proof of this commandment is from this week's Torah portion, "Moses wrote down this Teaching and gave it to the priests, sons of Levi, who carried the Ark of the Eternal's Covenant, and to all the elders of Israel." (Deut. 31:9). The Hebrew word for "Teaching" is "Torah" - "Vayichtov Moshe et HaTorah hazot."
We could take this literally to mean that in our lifetime each one of us should either write or commission the writing of a Torah, but I believe it is meant to be taken more metaphorically. The Torah is the story of the Jewish people, and we are to write the Torah of our lives.
Bachya Ibn Pekuda, a 12th Century Judge and philosopher wrote a book called Duties of the Heart, and in it he states, "Our days are scrolls, write on them what you want to be remembered." He teaches us that our lives are like a Torah. Just as the Torah, our Tree of Life, teaches us how to live, we too, can teach others through our words and deeds. How do you want to be remembered? How will you live your life to make this a reality? What lessons do you want to teach, and how will you be an example to others?
Our days are scrolls, may we each have the strength and self-confidence to write a Torah that will make us, those who know us, and God proud.
~ Rabbi Shana Nyer
Mon, September 25 2017 5 Tishrei 5778