Strengthening Suburban Temple- Kol Ami
what your donation makes possible:**
$7,500 Annual Rosh Hashanah Luncheon
$2,000 One year live streaming of Kabbalat Shabbat Services
$1,000 One day of Our Tent programming
$720 Annual Pints on Purim Program
$360 Simchat Torah congregational dinner
$180 Postage for one monthly bulletin mailing
$72........Paper goods for one Calvary Church Supper for the needy
**examples of typical expenses
To Learn More about the 2017 STKA Annual Campaign visit here:
Open Doors - 2017/18 Membership Renewal
Open Doors 2017/18 renewal forms were mailed to all current members in June 2017. If you wish to renew online, please login to your account and then click on the Open Doors on the menu bar. You will see the link to the renewal form in the drop-down menu.
If you haven't yet renewed for the current fiscal year, please do so as soon as possible. Thank you.
Torah Talk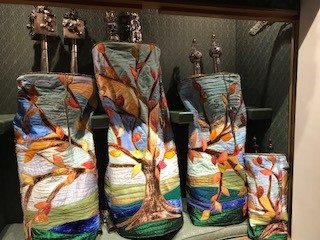 THE SEDER TABLE
This Shabbat in Parshat Bo, we read the final three of the Ten Plagues, so I cannot help but think of Passover although it and spring seem very far away! And despite my distaste for matzah, Passover is still one of my favorite holidays. I love how centered around home and family it is.

I remember that one of my first art projects was a matzah cover. My mom used it and the one my sister made for years. Then when the grandchildren came, their art projects filled the table. We always lit my great-grandmother's candlesticks and used her water pitcher for washing our hands. Today the tunes sung are a combination of my great-grandfathers and the ones my sister and I, and now my nephew learned in Jewish day school. We sit around the table and we tell the Passover story, but we also tell and retell beloved family stories. And over the years we have added traditions brought by new family members and friends who have become family.

The Seder table is a good metaphor for life. We are all part of a collective history, a link in the chain of tradition, and we all have personal history as well which makes us special and unique. We all have objects that hold meaning for us and lessons taught by those who came before us that remind us of what really matters; stories we will add to and pass on to future generations. And we all continue to learn and grow, as new and special people come into our lives. For each of us, may our table in life always be full of family and friends who have become family sharing stories and lessons, traditions and rituals, past, present and future.

~Rabbi Shana Nyer
Tue, January 23 2018 7 Sh'vat 5778