Open Doors - 2018/19 Membership Renewal
Open Doors 2018/19 renewal forms were mailed to all current members in June 2018. If you wish to renew online, please login to your account and then click on the Open Doors on the menu bar. You will see the link to the renewal form in the drop-down menu.
If you haven't yet renewed for the current fiscal year, please do so as soon as possible. Thank you.
It is Time to Register for Our Tent!
Registration is NOW Open for the 2018-2019 Our Tent School Year!!!
Member Registration is until July 31st. On August 1st we will open registration up to the public, so make sure to register early so you can be placed in the class of your choice!
Click HERE to see the classes that are available
Click HERE to register
Looking for ways to contribute to Our Tent?
Our Tent brings together our entire congregation on Sunday mornings to learn together. Our Tent is for adults and children, young and the old and all of us in between. It's for those who want to learn together with all age groups, and for those who want to learn with their peers. It's for those who prefer to learn through a book or lecture, and for those who want to learn through experience and expression of their creativity. It's for thosewho want to explore history and those who want to dream about the future.
You can help to make this happen! There are several ways to donate to Our Tent .
For $72 you can sponsor a Sunday Breakfast
For $360 you can sponsor 1 full class for a trimester
For $72 you can sponsor a single class
You can also do a Tribute in Honor of a Teacher!
To find out about other options, please email Rabbi Shana or Brett Shankman
Order Your Challot for High Holy Days!
We offering challot for sale for the High Holy Days! The challot will once again be made by Lucy's Sweet Surrender, the bakery that provides us with our challot for oneg shabbat each week.
You can download the order form by clicking HERE

If you prefer, contact Dale Hopkins at 216.991.0700 to place your order by phone or via e-mail at dhopkins@suburbantemple.org!
All orders must be submitted to the Temple by Tuesday, August 28, 2018.
Torah Talk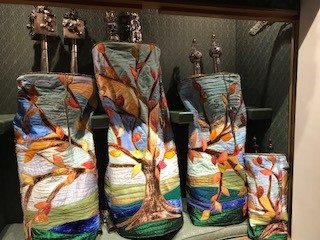 OUR OWN PERSONAL TOUCH
"When he [the king] is seated on his royal throne, he shall have a copy of this Teaching written for him on a scroll by the Levitical priests. Let it remain with him and let him read in it all his life, so that he may learn to revere the Eternal his God, to observe faithfully every word of this Teaching as well as these laws. Thus, he will not act haughtily toward his fellows or deviate from the Instruction to the right or to the left, to the end that he and his descendants may reign long in the midst of Israel." (Deut. 17:18-20)

In these verses from this week's Torah portion Moses is speaking to the Israelites and explaining to them that once they enter the Promised Land, they should appoint a king to lead them. And this king should have his own personal copy of the Torah. There was an understanding that rulers and leaders should be guided by Torah and the values it teaches. It would help keep them humble, make good decisions, and be better leaders.

The same is true for us. Our lives too must be guided by Torah and its values. And more than that, we must remember that our life is our own personal Torah. 11th century rabbi, Bachya ibn Pakuda, teaches, "Days are scrolls – write on them what you want to be remembered." Every word we speak, and our every action is recorded. In the end we want a scroll that makes God, those we love and care about, and most importantly ourselves proud.

~ Rabbi Shana Nyer
Sun, August 19 2018
8 Elul 5778
Happenings at The Temple:
Sun, August 19 2018 8 Elul 5778