Suburban Temple - Kol Ami
Open Doors - 2018/19 Membership Renewal
Open Doors 2018/19 renewal forms were mailed to all current members in June 2018. If you wish to renew online, please login to your account and then click on the Open Doors on the menu bar. You will see the link to the renewal form in the drop-down menu.
If you haven't yet renewed for the current fiscal year, please do so as soon as possible. Thank you.
It is Time to Register for Our Tent!
Registration is NOW Open for the 2018-2019 Our Tent School Year!!!
Member Registration is until July 31st. On August 1st we will open registration up to the public, so make sure to register early so you can be placed in the class of your choice!
Click HERE to see the classes that are available
Click HERE to register
Looking for ways to contribute to Our Tent?
Our Tent brings together our entire congregation on Sunday mornings to learn together. Our Tent is for adults and children, young and the old and all of us in between. It's for those who want to learn together with all age groups, and for those who want to learn with their peers. It's for those who prefer to learn through a book or lecture, and for those who want to learn through experience and expression of their creativity. It's for thosewho want to explore history and those who want to dream about the future.
You can help to make this happen! There are several ways to donate to Our Tent .
For $72 you can sponsor a Sunday Breakfast
For $360 you can sponsor 1 full class for a trimester
For $72 you can sponsor a single class
You can also do a Tribute in Honor of a Teacher!
To find out about other options, please email Rabbi Shana or Brett Shankman
Torah Talk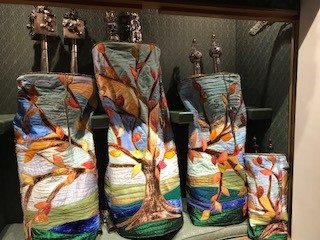 PAST, PRESENT AND FUTURE
This week we begin the book of Devarim – Deuteronomy. Below is a lesson from this week's Torah portion from G-dcast.

First up is a history lesson. So it's an eleven-day journey that really doesn't bother anyone and gets straight to the destination...or what we'll call the scenic route: thirty-nine years, eleven months, one day, and lots of people in the way. So we need a review. And Devarim invites us to review our relationship to history. In Devarim, the story of the Children of Israel begins not with something that happened to us, but something we did: We got up on our own two feet (or, rather -- on our 1.2 million feet, give or take). We left Mount Sinai. We began our journey as a people with Torah.

Moses has some explaining to do. We're on the verge. We're standing on the threshold of God's promise. Except nobody knows it. Other than Moses, Joshua, and Caleb, none of the Israelites who left Egypt are still alive. It's a brand new generation, a generation with no memory of going down to Egypt, of slavery, of the Exodus, or of receiving the Torah at Sinai. This generation has no memory of anything other than wandering in the desert. And – about that – they probably have some questions. The book of Dvarim is mostly one long answer to those questions.

It takes eleven days, the Torah tells us, to get from Mount Sinai to Kadesh-Barnea, the Israelite campsite at the edge of the Promised Land. But instead of a week and a half, it has taken the Israelites nearly forty years. So it's reasonable to wonder about two things: How did we get here? And what took so long?
To be sure, the first time the Israelites got to the border of the Promised Land, it didn't go so well. After some fearful reports from their advance scouts, the people refused to walk another inch and then God became angry with them. They let events drive them, instead of taking responsibility for their own future. And it took a few years to get back, but here we are again at the edge, on the verge, at the threshold. Back then, the cliché that those who forget the lessons of history are doomed to repeat it wasn't yet a cliché. Devarim is Moses's effort to avoid that mistake. He gives the Children of Israel ownership of their own history. History is not something that happens to us. History is what we do with what happens to us. The Torah tells us that God will keep God's promises. But the long and circuitous journey to the Promised Land gives us the time to remind us that the history of our arrival has yet to be written. We have been called to the journey. How we get there is up to us.

~ Rabbi Shana Nyer
Sun, July 22 2018
10 Av 5778
Happenings at The Temple:
Sun, July 22 2018 10 Av 5778