Friday, March 23 | 6 pm
Suburban Temple - Kol Ami is pleased to present the Gay Men's Chorus of Washington, DC at our special shabbat on March 23. They will be enhancing our Shabbat with song.
There is no cost to attend!
**SEATING IS LIMITED, SO WE MUST ASK THAT GUESTS OF THE TEMPLE PHONE OR E-MAIL AN RSVP WITH THE NUMBER OF ATTENDEES IN THEIR GROUP. Please contact Dale at dhopkins@suburbantemple.org or Robin at rsmith@suburbantemple.org / 216.991.0700.
The Gay Men's Chorus of Washington, DC is currently on their national tour "MAKE AMERICA GAY AGAIN" and they are making a special stop at Suburban Temple - Kol Ami for one night only.
We do hope that you will join us on this fantastic occasion!
Open Doors - 2017/18 Membership Renewal
Open Doors 2017/18 renewal forms were mailed to all current members in June 2017. If you wish to renew online, please login to your account and then click on the Open Doors on the menu bar. You will see the link to the renewal form in the drop-down menu.
If you haven't yet renewed for the current fiscal year, please do so as soon as possible. Thank you.
Torah Talk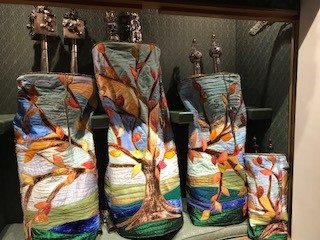 SHINING BRIGHTLY
The Eternal Light—the Ner Tamid—is at the heart of a sanctuary. Perched above the Ark, the Ner Tamid is a stylized light that never dims.

The commandment for the Ner Tamid comes from this week's Torah portion, Tzav:
This is the Torah of the burnt-offering… The fire on the altar shall be kept burning, not to go out: the priest shall burn wood upon it each morning, each morning … A perpetual fire shall be kept burning on the altar, not to go out. (Leviticus 6:1, 4, 6)

What is the purpose of this everlasting light?

On the verse "A fire must continually be lit on the altar", it is 11th century commentator Rashi who makes the connection between this fire, and the Ner Tamid in our sanctuaries, noting that since the destruction of the Temple, the Ner Tamid in our own synagogues serves as a reminder of God's perpetual presence.

I believe that this reminder of God brings us an additional meaning, one that particularly applies to this weekend--in our congregation and in our nation: The eternal light serves as a reminder that we have a divine spark inside of each of us. That divine spark reminds us that we are each holy; and one of our mandates is to improve the world. After all, it teaches in Proverbs, "For the mitzvah is a lamp, the Torah is a light". About this, our rabbis teach: When one performs a mitzvah it is as though she lights a lamp before the Blessed Holy One!"

This Friday night at 6pm, we bring a spark to the world when we host the Gay Men's Chorus of Washington D.C., as they continue their tour. The goal of their tour is to "inspire equality and inclusion with musical performances and education promoting justice and dignity for all".

On Saturday, in Cleveland and Washington D.C. and throughout the country, hundreds of thousands will join in the March for Our Lives, a student led movement demanding action on gun control.

Indeed, this Shabbat we light a lamp before the Blessed Holy One.

~ Rabbi Allison Vann
Fri, March 23 2018 7 Nisan 5778