We are so excited about Our Tent, but don't take our word for it.....hear what Jenni has to say!
Open Doors - 2017/18 Membership Renewal
Open Doors 2017/18 renewal forms were mailed to all current members in June. If you wish to renew online, please login to your account and then click on the Open Doors on the menu bar. You will see the link to the renewal form in the drop-down menu.
Torah Talk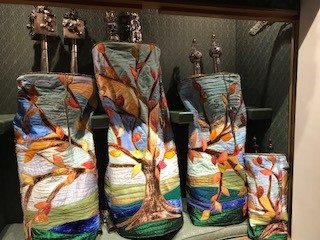 LIGHT, LOVE, AND BLESSING
"See this day I set before you blessing and curse: blessing if you obey the commandments of Adonai your God that I enjoin upon you this day; and curse if you do not obey the commandments..." (Deut. 11:26-28)
These are the opening words of this week's Torah portion, Re'eh. I am reminded of a conversation a friend and colleague of mine had with one of his students. The student declared that he could not have a Bar Mitzvah because he did not believe in God. To which, my friend calmly replied, "Tell me about this God you do not believe in." The student went on to tell his rabbi that he could not believe in a God that uses illness, famine, and death as punishments for bad behavior. Or a God who is so involved on our lives that when good things happen it is God's will, and when bad things happen it is for the same reason. My friend looked this young man in the eyes, and told him that he could not believe in that God either. Rather he believes in a God that is loving and kind and supportive, and there for us when we have joys to celebrate, and through life's more challenging times as well.
I would tend to believe in the same God as my friend and colleague, a very wise rabbi. So what then, do we do with this verse from this week's portion? First, we recognize that there are certain life experiences, like illness and natural disasters, that are beyond our or God's control. And that God's roles in those times is to be another source of strength and support. Additionally, if this week has taught us anything, it is that when we put hate and darkness out in the world we bring about nothing but curse, but when we share love and light, we bring an abundance of blessing. May we each work for the latter, and may our world be healed through our actions and the actions of all those who understand that every person is created in God's image and we must fight for justice and equality is all its forms.
~ Rabbi Shana Nyer
Tue, August 22 2017 30 Av 5777