Friday, March 23 | 6 pm
Suburban Temple - Kol Ami is pleased to present the Gay Men's Chorus of Washington, DC at our special shabbat on March 23. They will be enhancing our Shabbat with song.
There is no cost to attend!
**SEATING IS LIMITED, SO WE MUST ASK THAT GUESTS OF THE TEMPLE PHONE OR E-MAIL AN RSVP WITH THE NUMBER OF ATTENDEES IN THEIR GROUP. Please contact Dale at dhopkins@suburbantemple.org or Robin at rsmith@suburbantemple.org / 216.991.0700.
The Gay Men's Chorus of Washington, DC is currently on their national tour "MAKE AMERICA GAY AGAIN" and they are making a special stop at Suburban Temple - Kol Ami for one night only.
We do hope that you will join us on this fantastic occasion!
Open Doors - 2017/18 Membership Renewal
Open Doors 2017/18 renewal forms were mailed to all current members in June 2017. If you wish to renew online, please login to your account and then click on the Open Doors on the menu bar. You will see the link to the renewal form in the drop-down menu.
If you haven't yet renewed for the current fiscal year, please do so as soon as possible. Thank you.
Torah Talk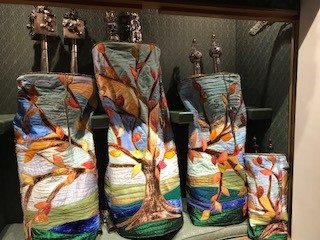 THE ETERNAL LIGHT
A story is told that in a mountain village in Europe many centuries ago, there was a nobleman who wondered what legacy he might be able to leave his townspeople. At last he decided to build a synagogue. None of the local folk saw the plans for the building until it was finished. When the people entered for the first time they marveled at its beauty and detail. Then someone asked, "Where are the lamps? How will it be lighted?" The nobleman pointed to the brackets which were on every wall of the synagogue. Then he gave each family a lamp to bring with them every time they came to the synagogue. "Each time you come to the synagogue," he said, "you will bring your light with you, for you each bring light wherever you go. It is this light which will light our synagogue. And when you are not here, especially in times of community need, there will be a part of God's house that is dark."
This Shabbat we read about the lighting of the menorah in the tabernacle, which today is replaced with the ner tamid, the eternal light. It is the only practice associated with the ancient tabernacle that is still reflected in our synagogues. The ner tamid is a sign of God's constant presence in our lives, and it is also a reminder that we each have the ability to be a ner tamid, an eternal light in the world. When we fight for injustice and support others who are doing so, when we choose kindness, when we work to repair the brokenness in our world, we become a ner tamid, dispelling darkness and becoming a visible sign of God's presence in our lives. Our world often seems like a very dark and scary place, all the more so recently, may we be inspired by our own light and the light we see in others.
~ Rabbi Shana Nyer
Sun, February 25 2018 10 Adar 5778