Suburban Temple - Kol Ami
Open Doors - 2018/19 Membership Renewal
Open Doors 2018/19 renewal forms were mailed to all current members in June 2018. If you wish to renew online, please login to your account and then click on the Open Doors on the menu bar. You will see the link to the renewal form in the drop-down menu.
If you haven't yet renewed for the current fiscal year, please do so as soon as possible. Thank you.
Torah Talk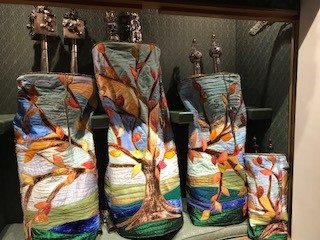 COUNTING TO TEN
The sacred narrative of our Torah is no stranger to dramatic episodes. In this week's Torah portion, we encounter one of the more dramatic such lessons.

A man named Korach, together with a group of followers, come before Moses and Aaron to question their leadership and authority. To be sure, Korach presents a powerful argument, saying to Moses, "You have gone too far! The whole community is holy, every one of them, and the Lord is with them. Why then do you set yourselves above God's assembly?"

Moses' reaction is surprising: "When Moses heard this, he fell face down."

The Israelites are in the middle of a potential full-scale rebellion—and Moses prostrates himself? What is happening?

Rabble Shneur Zalman of Liadi explains Moses's actions in this way: "…he first fell on his face for self-reflection, to see if in truth he had any arrogance. After he thoroughly checked himself, and found no trace of pride, he understood that he [Korach] was not a messenger from On High, but was a divider [of people], and so he answered as he did."

In other words, Moses prostrated himself to take the time—a proverbial "counting to ten"—to consider the possibility that Korach may have some truth to his argument. In the end, Korach's challenge does not have validity, and Korach, and his followers, are held accountable for their selfish actions which pulled apart the community.

There is a timeless lesson for us: what Rabbi Schneur Zalman helps us to realize is that by "counting to ten", we take the time to learn from all critiques, even when they are challenging. In this way, we hold ourselves accountable to being the best people we can be. Indeed, "counting to ten" does serve us well!


~ Rabbi Allison Vann
Thu, June 21 2018
8 Tammuz 5778
Happenings at The Temple:
All Events
Kabbalat Shabbat


Friday, Jun 22nd

6:00p

to

7:15p




Kabbalat Shabbat


Friday, Jul 6th

6:00p

to

7:15p




Men's Club Summer Event at Progressive Field


Sunday, Jul 8th

1:10p

to

4:30p




The Men's Club's Summer Outing at Progressive Field will be held on Sunday, July 8 and the first pitch is at 1:10 pm. The Indians will be squaring off against the Oakland Athletics. We are still working on details about a possible pre-game get-together, so please stay tuned to the Temple Times for updates. In the meantime, please sign up using our registration form. Tickets are $30 apiece and we will be distributing them via TICKETS.COM closer to the date of the game. If you don't already have an account, please make sure to set one up in-advance of ticket distribution. Come out and show your hometown and Temple spirit with us. We hope to see you there! REGISTRATION ENDS JUNE 7th!
Thu, June 21 2018 8 Tammuz 5778